I decided to break up my list into a few different categories because it was getting really, really long (man, I need to start saving up some serious $$ to buy all of this, building a wardrobe from scratch is NOT cheap!).
First off, I need at least a semi-decent work wardrobe. While I can wear fairly casual clothes for work too, I also have to give talks, travel for business, have interviews etc so I do need some essential business items too.
Pencil Skirt
My first choice for a pencil skirt was the Laura Byrnes Black Label High Waisted Pencil Skirt (listed on
Pinup Girl Clothing
for $80 and on
Deadly is the Female
for 70 GBP).
However, it looks like it's sold out everywhere! Plus, I have to admit the price was pretty daunting for me.
What I love about the skirt, though, is that it's high waisted but doesn't have too much of a nipped in waist or a tight looking waist band around the waist. No matter how much I hit the gym, I'll still have loose skin and the after effects of major weight loss/pregnancy so I have to be pretty careful about waist bands, how tight they are and where they sit on my mid-section.
Because the Laura Byrnes' skirt is sold out, I really do need something in the meantime. I've heard good things about
this H&M skirt
The H&M skirt does have a waist band, which I wonder how it'll look on my body but it's curved and looks rather forgiving. The model has a more straight torso so I'm hoping that it'll work well with my body.
Business Suit
I'm still undecided when it comes to a nice business suit.
Pepperberry has a pinstriped suit that looks ok (27.60 GBP for
the jacket
and and 11.50 GBP for
the pants
):
But I have to admit that I'm not in love with it and am nervous trying it because I've never worn Pepperberry clothes before (and I've heard so many mixed reviews). It's currently on sale so I'm not sure if it'll be around either by the time I could afford it.
H&M also has a matching
jacket
(29.99 GBP) that goes with the pencil skirt above. I had actually planned on ordering this with the skirt but because the jacket wasn't set to be released until next month I decided to go ahead with just buying the skirt.
Basic White Shirt
It's always good to have a classy white shirt to wear underneath your business suit and from what I hear
Campbell and Kate
leads the field in that department for busty women
Shift Dress
I really love BiuBiu's
Pasadena (161 PLN)
Another great thing about a shift is that there's no waistband for me to worry about. It would give a flattering look around my midsection but nothing to dig into my waist.
Shoes
I have flat feet and bad knees so I have to be extremely careful when it comes to picking out shoots. Super high-heeled stilettos would wreak absolute havoc on my feet and knees. One brand that I've found in the past year that works well for me are Danskos and I've found two great options that would work well in a professional environment: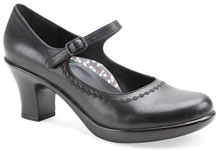 Bett Black Nappa the more formal of the two. It has a low-heel, which still is probably higher than what I should be wearing but as long as I don't turn it into an every-day shoe it would be a great option for when I need to dress more formally.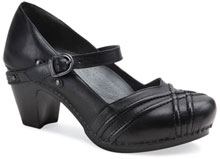 Reeny Black Full Grain the more casual of the two and something that would also look great with jeans and a T-shirt. It also comes in brown but it would be a fun shoe if it came in red or some other colors too.:)
I'm not sure of their actual prices because they vary so much by retailer. Sometimes I've seen Dansko shoes listed around $150 but on outlet websites they can be significantly cheaper at around $70 (or even much less once you add in discount codes).